You will find here the most pertinent information in English. Of course, Google can translate the entire site.
---
Where to stay
In the village
---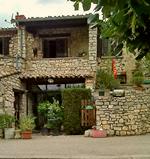 Gîte de groupe « Gîte d'Angèle » – A former sheepfold tastefully furnished, on the slopes of the Montagne d'Angèle, in the quiet village Villeperdrix, Adrien and Florent will share with you their passion for the region. They offer you two dorms 6 to 10 persons, 5 rooms for 2 to 4 people, private bathroom (shower and toilet), kitchen / living room. Horse shelter. Farmhouse inn nearby. Tariff weekend (Friday evening to Sunday evening) dormitory € 86 / € 96 Room. TV, garage, heating, place for barbecue. Optional: bed linen, cleaning surcharge. Electricity and heating included.
Address : Sur le Serre, 26510 Villeperdrix
Mail: gite.angele@gmail.com
Tel: +33 (0)4 75 27 42 30, +33 (0)6 72 81 48 82 ou +33 (0)6 01 27 28 36. 
---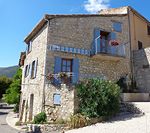 « Les Volets Bleus » – 3-room house and terrace, overlooking the valley, 65 m2 (700 sq. ft.) on two levels, consisting of ground floor: terrace with shade and garden furniture, living room / lounge + fitted kitchen and WC. First floor: bedroom with balcony, equipped with a double bed, loft with two single beds, bathroom and WC. Outside: vaulted room with a washing machine (can be used as storage for bicycles, etc.) and parking. Equipment: fireplace, heating, iron and board, coffee maker, cutlery and crockery, dishwasher, microwave, refrigerator, stove, toaster, dishwasher, washing machine. Linens and cleaning at end of your stay optional. Other: children welcome, no pets, smoking allowed, no disabled access. We speak French.
Contact : location-villeperdrix@orange.fr or +33 (0) 6 82 51 30 33.
---
XVI century house – I bought this house in ruins on impulse and, with the help of local craftsman, had it completely restored. Why this particular house ? Because of the view … and the tranquility! And because of its size. This house has a soul!
Village house of 200 m2 (2150 sq. ft.), luminous without opposite neighbors, 3 bedrooms with double beds, a dormitory with 5 beds, two bathrooms, two toilets, large living room – dining room, washing machine, dishwasher, kitchen with oven, hot plates, fridge, freezer; Big screen + DVD player, large south-facing terrace, barbecue, sun bath, parasol. Table with up to 10 places when extended. Pool. Parking, animals are welcome, Internet access. We speak English and French. +33 (0)6 80 30 52 96.
---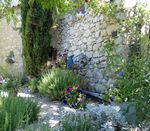 Chambres d'hôtes «Les Vieilles Granges»
Two independent rooms in an old farmhouse, 300m (300 yard) from the village. Nice view to the countryside at the foot of Montagne d'Angèle. Pets welcome. Price: two persons with breakfast € 45, check or cash.
Address: route du col de Chaudebonne. Open from April 1st to November 15th, daily. Contact : claudette.favier@orange.fr or +33 (0)6 77 41 40 86 / +33 (0)4 75 27 43 78.
---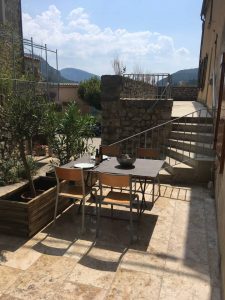 Village house in the heart of Villeperdrix – We offer a pretty village house that has recently been completely restored. It consists of a large living room / kitchen on the ground floor and an outdoor terrace. From a landing with laundry (washing machine & dryer) and a toilet. On the 1st are 2 bedrooms and an independent bathroom. And finally on the 3rd a TV corner, a bathroom, a dormitory with 3 single beds. To rent through Airbnb. Do not hesitate to contact us.
---
Around the village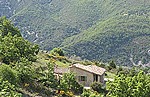 Gîte le Céruléum – (Cerulean, also spelled cærulean, is a color term that (…) largely overlaps with azure and sky blue, although cerulean is dimmer – Wikipedia)
Provencal farmhouse with stunning views over the mountains of the Baronnies. This characterful house will seduce you with its natural surroundings. Enjoy the quiet in the shade of white oak, amid olive and apricot trees. It is located 600 m (650 yards) from the village, on an unfenced plot of 2000m2 (0.5 acre).
House size 100 m2 (1080 sq. ft.), for up to 7 people. Two bedrooms with double beds, 1 bedroom with 3 single beds. Two bathrooms. Two toilets. Kitchenette. Living room. Mezzanine. Washing machine, dryer, dishwasher, oven, freezer, microwave. Television, cable / satellite and Internet access. Open fireplace – Central heating.
South and East exposure. Terrace. Private garden. Garden Lounge, Barbecue, Private parking. Towels and sheets provided. Pets welcome.
Address: La Chaux, Villeperdrix. Weekend rentals available outside school holidays. Open all year. More information on the site maslapislazuli.com. Contact: Beatrice Brun, maslapislazuli@gmail.com or +33 (0)6 32 64 00 17.
---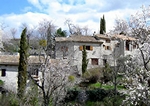 Le Clos des Lavandes – A large house, offering a beautiful view of the mountains. 'Le Clos des Lavandes' is located outside the village of Villeperdrix, at an altitude of 450 m. (1500 ft.). Looking over the valley of the Eygues and surrounded by olive groves and lavender, this comfortable, rustic house has been granted two 'stars' by the département. The living is a vaulted room, originally an old barn, redecorated with a sofa and two armchairs, TV and closed fireplace. It remains fresh even during the hottest hours of the summer and has a large terrace with a panoramic view, away from prying eyes. In short: 3 bedrooms, 1 bathroom, parking, barbecue, washing machine. Linen is provided.
We are a couple of retired teachers, parents of three children. Caring for the home of our seasonal guests is our priority and our great fun too. To guarantee excellent conditions for our guests, we limit the number of occupants to five. We speak English, French and German. Contact us by jean-michel.vesna@hotmail.fr or at +33 (0)6 17 59 05 26.
---
At Léoux, 7 km from the village, higher, fresher, greener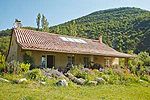 Case Ocre – A comfortable house and a spacious garden with a large walnut tree welcome you with two apartments, one big enough for 2-3 people and one single bed. Both with separate entrance directly from the garden and terrace.
The Studio for 2-3 people: living room with kitchen with wood stove (wood provided), bathroom (shower, toilet, sink), a bedroom with two or three beds. Floor heating, modern construction, well insulated, pleasant in all seasons. Large roofed terrace, garden. Internet access, radio / CD / MP3. Heating, bed linen (100% cotton), towels and cleaning included.
Individual room with internet access, shower, toilet, kitchen corner with induction plate, boiler and fridge. Private terrace and garden. Heating, bed linen (100% cotton), towels and cleaning included.
We speak English, French, German and Dutch. Photos, floor plan, availability and prices at www.case-ocre.fr
---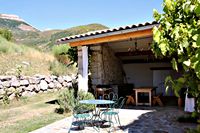 Les Moutons – Léoux is located on the way to Arnayon and La Motte-Chalencon. You will love the quietness, the relative isolation (there are nearby houses) and the beautiful view of the cliffs of the Angèle Mountain (1600 m./5250 ft.), vultures hovering in the blue sky and the air of a rare purity. At night, the total lack of artificial light makes it an exceptional place, well known by astronomers, to observe the sky and stars.
We let two accommodations, separately or together. Together they host seven people.
The Grange offers accommodation for 5 people in two spacious bedrooms (3 + 2). Sunny terrace from sunrise to sunset, spacious private garden.
Chambre à Deux: A bedroom with separate shower room, 2 beds in a lovely, romantic room. It is annex to the Grange.
The two units have been remodeled in 2017 with modern quality materials. Bed linnen and cleaning are included. We speak English, French, German and Dutch.
Contact: lesmoutonsleoux@gmail.com or +33 (0)4 28 52 00 10.
Web site: leouxlesmoutons.alwaysdata.net.
---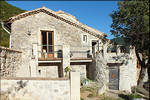 Apartment "Balcon d'Angèle": in an old stone house, the owners have arranged a nice original apartment with private entrance, well separated from the rest of the house.
Living with small mezzanine (for your luggage), kitchenette (electric stove with oven, fridge and small freezer), spacious shower, WC, twin bedroom, Internet access.
Terrace with spectacular views of the Montagne d'Angèle – with sun and shadow to choose from throughout the day. The wooded land is situated between two streams.
We speak English, German and French. Contact Karin munk_karin@web.de or call +33 (0)4 75 28 75 07.
---
Hotels
Hôtel des Voyageurs – The Hôtel des Voyageurs created in 2009 in an old notable house. Breakfast room, lounge area and 8 double rooms. Simple decor: old wooden floors, old fireplaces, central staircase with a bourgeois character. Modern Amenities: Accessibility for persons with reduced mobility, wall insulation, double glass, private bathrooms.
Happiness, a fantastic welcome, great views, breakfast on the terrace:-), need I say more. Go there, it's revitalizing. Thank you for everything!
Address: 84 La Grande Rue, La Motte-Chalancon. Tel. +33 (0)6 72 41 58 81, Website www.voyageurslamotte.com.
---
"Village Club Les Lavandes"
At the heart of the village of Rémuzat, in a pleasant park, quiet and wooded, Les Lavandes invites you to experience an unforgettable stay. The environment is preserved in this area dedicated to the nature and the considerable solar energy equipment of Les Lavandes, unique in the region, is an example of sustainable tourism. 88 rooms with private balconies and bathrooms. Adjoining rooms for families possible. Enjoy the bar with its shaded terrace, the auditorium and activity rooms (TV, video, library …). Outdoor pool heated by solar panels. Wellness area (sauna, steam, massage, fitness). Website www.neaclub.com, tel. +33 (0)4 50 52 61 51.
---
Tourist Offices